We are still offering MAT services!
If you or someone you know could use Medication Assisted Treatment (MAT) for Substance Use Disorder (SUD), we can help. We are accepting new patients to our MAT programs across the state. Our programs are taking extra steps to keep our patients safe during the COVID-19 pandemic.
How do I get started?
Give us a call at (860) 347-6971 and ask for the MAT or substance use services team. You will be connected with a recovery care coordinator who can help!
What services do you offer?
Our MAT program includes:
Buprenorphine (Suboxone)
Naltrexone (Vivitrol)
Telephone/Video visits with providers
Virtual group and individual therapy sessions
Recovery Care Coordinators to assist with access to external agencies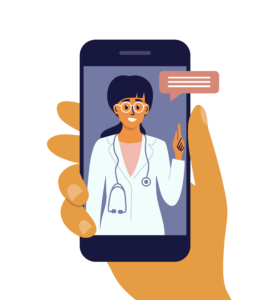 What are you doing to protect patients?
New patient visits can now be completed in-person or through onsite telehealth.
We have moved as many appointments as possible (including medical and individual and group therapy) to telehealth.
Our Recovery Care Coordinators are more available than ever for additional support and resources. You'll speak to someone from CHC at least once a week to help with your recovery plan.
For our patients who may not have a smart phone or internet access, we are offering onsite telehealth!
If you do have to come into a site, here's what you can expect:

Fewer patients in our waiting areas.

If you need toxicology screens (such as a lab visit or drive-up saliva test) we make sure there is as little person-to-person interaction as possible.

We are working with each patient to make treatment plans with as few in-person visits as possible.

For all patients and at all clinics, we check temperatures and ask COVID-19 screening questions at the door.
Where is MAT offered at CHC?
MAT is offered at all CHC sites that provide medical services. Click here to find the site nearest you!
What else should I know?
Please practice safer use!

Never use alone
Always use clean needles
Always make sure you have access to Naloxone (NARCAN)

To obtain NARCAN, please contact your primary care physician or call and speak with your local pharmacist
We're still here for you – contact us today at
(860) 347-6971!